Curtis Park / Land Park, Sacramento, CA: Neighborhood Guide
Posted by Sacramento Real Estate Voice on Monday, January 25, 2021 at 7:37 AM
By Sacramento Real Estate Voice / January 25, 2021
Comment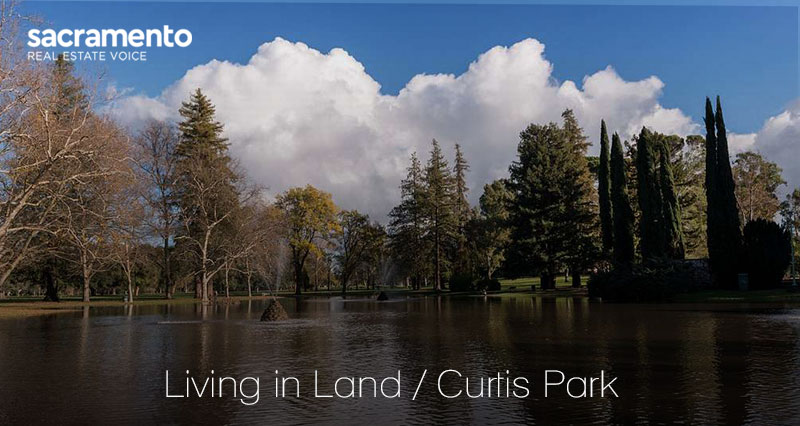 Curtis Park and Land Park are two Sacramento neighborhoods that are often joined at the hip since they have similar upbringings. From humble beginnings to residential zones that literally grew into each other, you may not be able to tell them apart at a glance. In this article, we'll be discussing what makes Curtis / Land Park such a special place to live.
History of Curtis/Land Park
Both Curtis and Land Park got their starts right around the same time, in 1850. Originally settled as farmland to feed prospectors searching for gold, the turn of the 20th century found these neighborhoods developing into larger residential areas. Around that same time, the land was given to each neighborhood to develop a park, and so Curtis Park and Land Park were born.
The two cities grew into each other and shared many architectural and design features. As each of them was annexed into Sacramento, streetcar lines were laid to provide easy transportation between the different neighborhoods. Only one line was laid to provide access to both of these neighborhoods, further creating a sense of fusion and commonality.
Interestingly, as both neighborhoods began to grow, there was no overarching plan for either neighborhood. Large tracts of land were divided up and sold off for residential use, and these new landowners did not coordinate their homes. As a result, a trip through either of these neighborhoods will reveal wildly different architecture.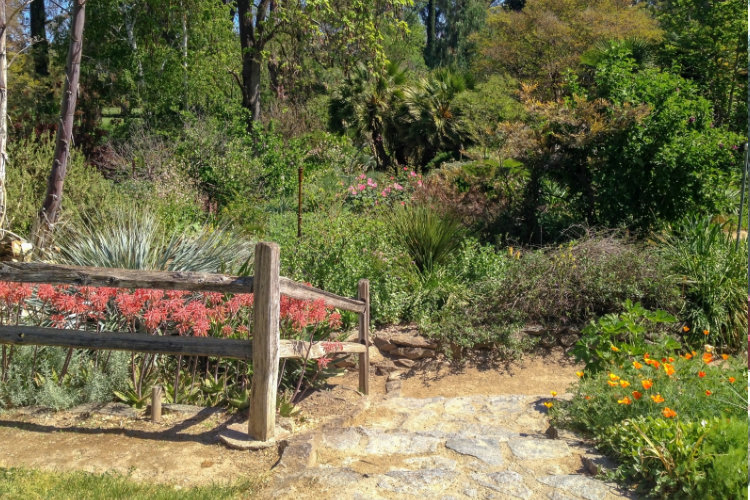 Lifestyle and Culture in Curtis/Land Park
There's no question that both Curtis and Land Park are residential neighborhoods. With many houses dating back 100 years, there are many historic homes to discover. Down seemingly every street, you'll find an interesting mishmash of European-inspired styles, including Tudor, Mediterranean, Cotswold, and Norman, to name a few. Just finding all these different types of homes is an adventure in itself!
Each neighborhood borders two highways, providing easy access either up into Downtown or Midtown Sacramento or out of the capital. Cars aren't the only way to get around, though, as many locals find themselves walking or biking around. It's still easy to get into the city's heart by using the light rail line that splits the two neighborhoods and serves them both.
These neighborhoods just south of Downtown Sacramento typically see hot, dry, and sun-filled summers with temperatures averaging well into the '80s. Winters are colder, wetter, and quite a bit grayer, with temperatures hovering in the 60's. The many nice months of weather bring out the locals, who love to take advantage of the parks and outdoor activities prominent in Curtis and Land Park.
That's not to say the neighborhoods don't have their differences. Curtis Park has a little bit more of a laid back feel and a real sense of community. On the other hand, Land Park has fun theme parks, zoos and the whole neighborhood is just covered in trees.
Things to Do in Curtis/Land Park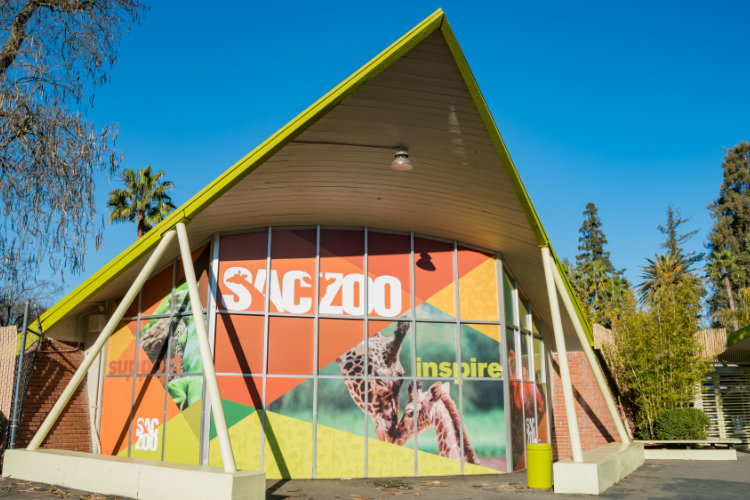 Source: Kit Leong / Shutterstock.com
Sacramento Zoo
The Sacramento Zoo opened its doors for the first time all the way back in 1927 and featured 40 animals. Today, the zoo is home to over 500 animals in numerous exhibits, with the stars being a herd of giraffes! It's also possible to spot kangaroo and emu in the Australian exhibit, big cats, small wonders of Africa, more than a few aviaries, and a reptile house, to name a few.
The zoo also offers several behind-the-scenes tours, which allow you to get up close and personal with some residents like the giraffes, zebras, alligators, tortoises, and the mysterious okapi. You'll visit areas that regular guests do not get to see as your guide teaches you all about these creatures. You may even get a chance to feed them!
Mornings can be the best time to see some of the animals out and about, and you may have the place to yourself. Should you decide to stay all day, the zoo has a café where you can grab a bite or a drink.
Source: Kit Leong / Shutterstock.com
Fairytale Town
One of two amusement parks located within the massive Land Park, Fairytale Town, is a journey through your favorite childhood tales and so much more. Fairytale Town has stood on this spot for over 60 years and offers many opportunities to play, dream, and learn.
There are 26 playsets based on nursery rhymes and fairy tales where kids (and adults!) can let their imaginations soar. To add to the sense of wonder, there are story boxes scattered throughout the town that can be unlocked to discover songs and stories about the different playsets.
The fun doesn't even end there! Fairytale Town also has an area with farm animals, several gardens, and two stages where you can enjoy some live theater or a concert.
Funderland Amusement Park
Funderland Amusement Park was constructed all the way back in 1946 with kid-sized thrills in mind. Inside, you'll find nine thrilling rides for kiddos from ages 2 to 12, but adults can enjoy them as well! Rides include driving buggies along a track, multiple carousel-type rides, and a roller coaster! There's even a train that will take you around the park!
Funderland is a great place for birthday parties and has designated park areas for just that. Throwing a party here includes a 2-hour reservation at one of the party areas and free invitations to send out, a personal host or hostess, and special coupons for the birthday child!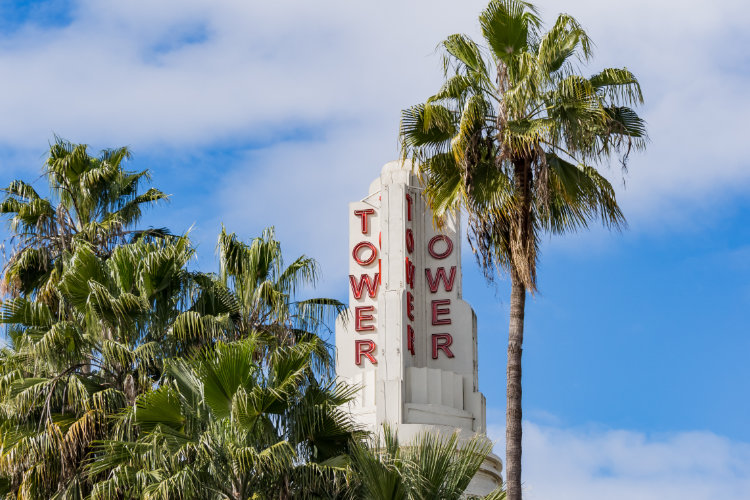 Source: Kit Leong / Shutterstock.com
The Tower Theatre
The Tower Theatre stands tall over Land Park and certainly commands a presence. It was built in 1938 to provide entertainment for the community and has been doing it just ever since. Although renovated and upgraded over the years, it retains a classic feel even today. It's a great place for everything from blockbusters to local indie films you'll not find anywhere else.
Shopping and Dining in Curtis Park
Curtis and Land Parks each have a nice selection of local shops and restaurants that can only be found in these neighborhoods, and eating or shopping there fosters a real sense of community. In Curtis Park, Franklin Boulevard is a great place to look. On Broadway, which runs along the northern part of Curtis and Land Park, you'll find many more places to shop, eat, and drink.
Parks and Recreation in Curtis/Land Park

William Land Regional Park
Located unsurprisingly in the Land Park neighborhood, William Land Park is one of Sacramento's largest parks. Within its confines are the aforementioned Sacramento Zoo, Fairytale Town, and Funderland Amusement Park, but the park's amenities don't stop there.
Land Park also plays host to three lily-pad filled ponds where you can relax in the shade of the tall trees, feed the ducks, and admire the plants and flowers. There are tables for picnicking and a large green space for lounging or starting a pick-up game. The amphitheater is a great spot to see a concert or a play.
If sports are what you're in the mood for, visit one of the fields for soccer, baseball, softball, or the basketball court. You'll also find a 9-hole public golf course entirely within the perimeter of the park.
In the middle of the park is the WPA Rock Garden. Don't let the name fool you – this one-acre large plot of land is full of a wide variety of plants with sprinkles of rock mixed in. Often overlooked, the rock garden is great for discovering many native California plants. Kids love exploring the winding paths and seeing what's behind the next bend. Be sure to walk slowly enough as not to miss all the garden has to offer.
Curtis Park
Curtis Park is where the local community loves to meet up and hang out. The long, narrow park pierces a large section of the same name heading north to south. Within the border of this park, you'll find a softball field, tennis court, and basketball court, as well as an adventure play area in the same vicinity for the kiddos.
The park also has plenty of open field for lounging or picnicking. Word on the street is that the path around the park's perimeter is exactly one mile long, so it is a favorite of walkers and runners.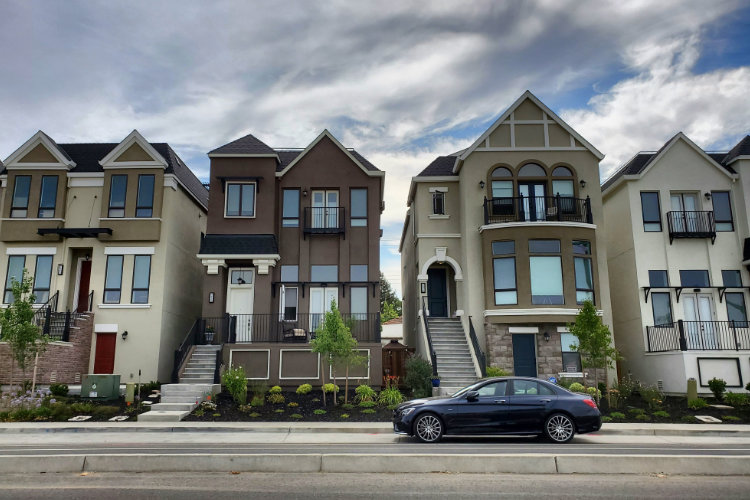 Crocker Village homes in Curtis Park
Real Estate in Curtis/Land Park
Both of these communities are well sought after for the residential atmosphere and prevalent parks. They are outside the busy Downtown area and feel as if they have a slower pace, but are still just a few minutes from all the amenities the city center offers.
Homes are the name of the game in these two neighborhoods, and they are everywhere. Many of the homes date back to the early 1900s but still look great. More recent constructions and a few apartment complexes sprinkled throughout both neighborhoods, but those can be harder to find.
It is possible to find homes in just about any price range here. If you're looking to save a little, some homes have been built as duplexes, and some homes have been partitioned off inside and turned into multiple apartments.