Living in Elk Grove, CA: 2021 Community Guide
Posted by Sacramento Real Estate Voice on Monday, February 8, 2021 at 10:09 AM
By Sacramento Real Estate Voice / February 8, 2021
Comment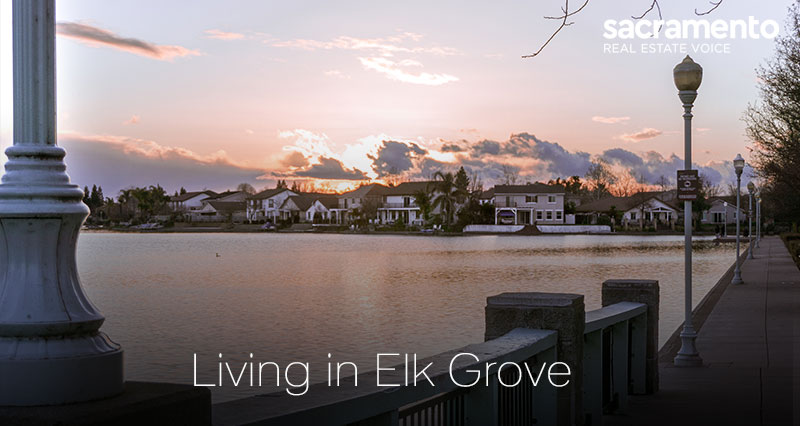 Located just 15 miles south of Sacramento, suburban Elk Grove is one of the fastest-growing cities in Sacramento County. With a population of over 179,000, Elk Grove is a sizable place but retains an intimate, friendly feel. There's a strong sense of community spirit in this thriving city, and residents enjoy various cultural and recreational activities together.
Elk Grove has a charming historic downtown that's included on the National Register of Historic Places Historic District, and many of the buildings in this area date back to the 1800s. Its residents celebrate the city's rich cultural and historical heritage, and the downtown district is home to a vibrant and eclectic shopping and dining scene. Downtown also hosts many events and festivals throughout the year and serves as the city's social and cultural heart.
With a wide variety of real estate options, award-winning schools, and over 700 acres of parks and green spaces, it's no wonder Elk Grove has been rapidly growing. Elk Grove's proximity to Sacrament and its beautiful surrounding areas like the Sierra Nevada Mountains and California wine country make it an attractive place to live for those looking for a quaint and laid-back community with a small-town feel.
Let's take a closer look at what makes Elk Grove such a great place to live.
Historic District of Elk Grove Credit: Sarah Stierch (CC BY 4.0)
Lifestyle and Culture in Elk Grove
Elk Grove's convenient location is one of its greatest assets, with many residents commuting to Sacramento for work. State Route 99 runs through Elk Grove, providing a direct link to the State Capitol. Although downtown Sacramento is only 20 minutes north, rush-hour traffic can add another 10 or 20 minutes to the drive.
For those who prefer not to drive, Elk Grove is well-served by public transit, with E-Tran providing local buses and commuter buses to Sacramento. Biking is also a great option in Elk Grove, and there are miles of trails throughout the city, including the 7-mile Elk Grove Creek Trail.
Exploring Elk Grove's areas is an exciting prospect, and there's so much to do and see in the Sacramento Valley and further afield. The surrounding wine country is only minutes away, while both Lake Tahoe and the Bay Area can be reached in a couple of hours.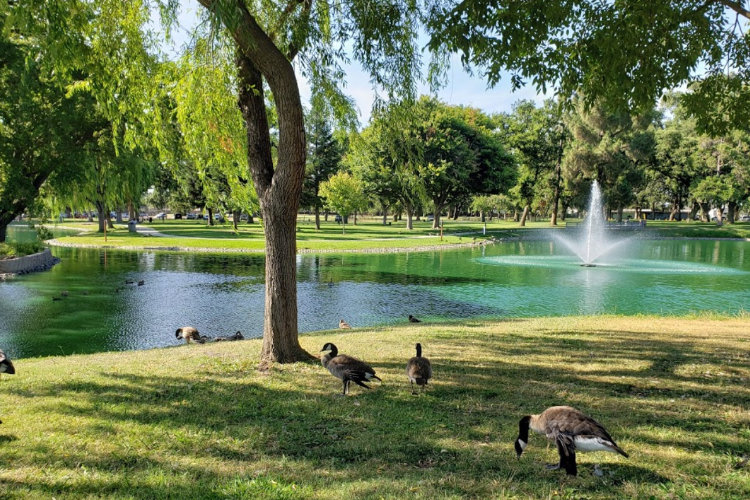 Elk Grove Park
Elk Grove residents love to spend time outdoors, and the wonderful California climate is ideal for getting the most out of the more than 90 parks that Elk Grove offers. Swimming, biking, and jogging are all favorite ways to get a workout in Elk Grove, and people of all ages will love the city's awesome skate park.
Elk Grove is surrounded by gorgeous country, and there are plenty of outdoor recreation areas for fishing, birdwatching, hiking, and swimming. Protected areas like Stone Lakes National Wildlife Refuge - with its 18,000 acres of wetlands and grasslands - are proudly supported by Elk Grove's residents. The city's children learn about environmental stewardship and sustainability at the wonderful Elk Grove Rain Garden Plaza.
Fostering and promoting the arts are important to everyone in Elk Grove, and there are many examples of local art throughout the city. Over 20 sculptures and other art pieces are scattered around Elk Grove and can be toured with a downloadable interactive map.
Local galleries regularly host open-house events, and the Elk Grove Fine Arts Center is a place for local artists to showcase their work, featuring revolving exhibitions, regular arts receptions, as well as classes and events.
With its beautiful, wide boulevards, downtown Elk Grove was once a sleepy agricultural community with just a few stores. Today, the revitalized streets are full of unique boutiques, galleries, funky antique stores, and a bevy of great restaurants. There's a wide variety of food on offer here, and cuisines from all over the globe are represented.
Beer and wine are a huge deal in Elk Grove, and the city is home to several breweries and wineries. This is a city where locals will never pass up the opportunity to sample locally-produced libations on a warm summer evening!
Apart from the unique shopping and dining in historic downtown, there are malls such as Laguna Gateway which offer more mainstream retail. Slightly further afield, Sacramento offers world-class dining, shopping, and nightlife. Generally, Sacramento is where Elk Grove locals go for a big night out.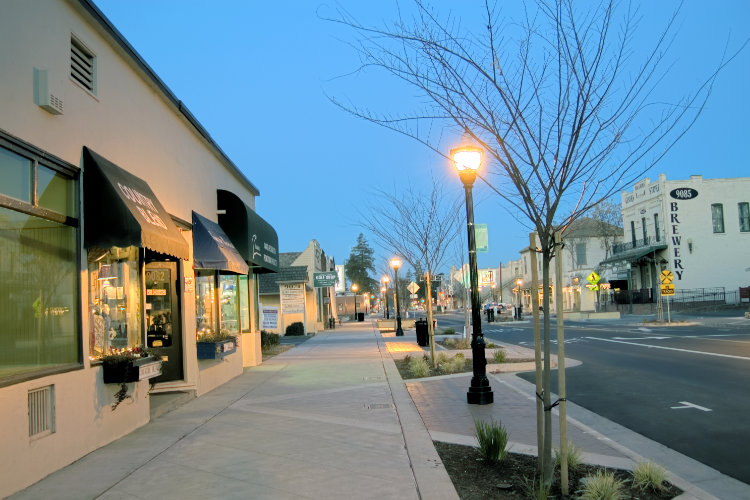 Old Town Elk Grove. Credit: Franz Liszt
Elk Grove's strong community spirit is always on full display during the numerous events and festivals that cram the local calendar. Locals love to come together, and events range from popular weekly trivia nights at local breweries to seasonal extravaganzas like the Giant Pumpkin Festival and the Dickens Street Faire.
The local farmers market is one of the best around and is the place to come for locally grown fruit and vegetables and artisanal products. Food Truck Mania is not-to-be-missed, and this monthly event draws people from all over the area to sample awesome, creative menus and live music.
The Elk Grove Unified School District is the largest in northern California, and its 62,000 students speak over 80 languages and dialects. This level of diversity is celebrated in Elk Grove, and the school district has been recognized at both the regional and national level for its exceptional education and academic achievements. The Cosumnes River College is Elk Grove's only higher education facility, and this small, popular college offers associate degrees in a range of subjects.
Things to Do in Elk Grove
Exit Strategy Games
Escape rooms have grown in popularity everywhere, and Exit Strategy Games in Elk Grove is one of the best examples around. This innovative facility features several escape rooms, offering games for up to 12 people. Difficulty levels range from kid-friendly to super-challenging, and the plot-themed rooms are designed to make you feel like you're starring in your very own movie.
A visit to Exit strategy Games is always a good time and provides a great way to build teamwork and communication for families, groups of friends, and work colleagues. Exit Strategy is a great place for birthday parties, and games last for up to an hour.
Vannatta Wines
Elk Grove is home to several wineries, and Vannatta is one of the best. Established in 2005, this family-owned winery focuses on producing hand-crafted, small-batch wines in an Old World style. Its 2016 Sangiovese won the silver medal in the 2020 San Francisco Wine Competition.
The Vannatta Wines tasting room is open on weekends and provides a welcoming, family-friendly environment. The charming patio has a small bar, and food is always available. Visitors can sit around the cozy fire pit or play a relaxing game of bocce ball while they enjoy a glass of wine. Kids and pets are welcome here, and the laid-back staff are always happy to show visitors around the winemaking facilities.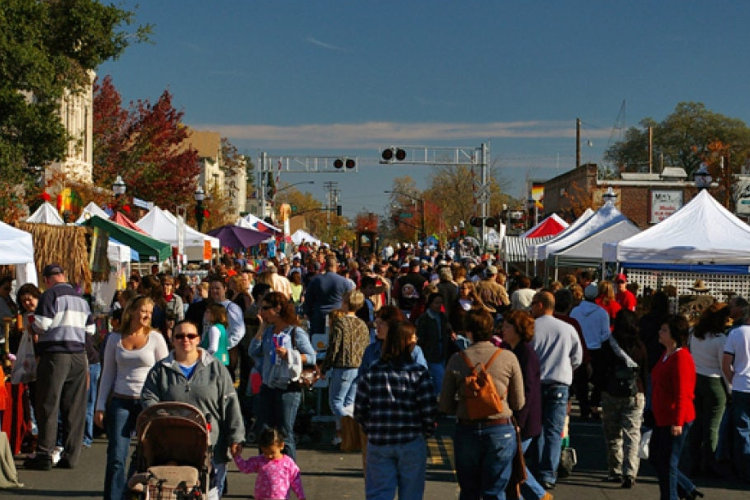 Dickens Street Faire
Dickens Street Faire
Every year on the first Saturday after Thanksgiving, the Dickens Street Faire marks the Yuletide season in Elk Grove. This highlight of the local calendar brings a flurry of activity to downtown Elk Grove, with over 125 arts and crafts vendors selling seasonal products and handmade art.
This is a family-friendly affair, and kids love seeing Santa being rescued by the local fire department. The kids' craft corner helps keep the little ones occupied while parents enjoy the shops, food, and live holiday music. After the sun goes down, Santa turns on the Christmas tree lights on Walnut Street, and carolers serenade the crowd.
Emerald Lakes Golf Course
Emerald Lakes has been in operation for over 20 years and provides a laid-back, welcoming environment for golfers of all skill levels. This beautiful 9-hole course features a 300-year-old heritage oak tree and 3 lakes, making it challenging enough for seasoned golfers.
Emerald Lakes offers a variety of classes and programs for all ages and skill levels, as well as a driving range, practice putting greens, and a well-stocked pro shop. One of the more popular activities here is footgolf, which entails playing the course with a soccer ball. Kids love this, and it's a great way to spend the afternoon.
Elk Grove House and Stage Stop Museum
There are many historical buildings in Elk Grove, but this is the jewel in the city's crown. Located in Heritage Park, Elk Grove House was built in 1850 by James Hall, and the beautiful 2-story brick structure was originally a hotel. Guests arrived by stagecoach, and the large porch and balcony offered a welcome relief from uncomfortable hours on the road.
This awesome museum is a great place to spend a few hours, and the friendly, knowledgeable staff are happy to provide tours and answer questions. The museum features period artifacts that recreate the feel of the hotel's heyday, and events and demonstrations are held throughout the year.
Other fascinating buildings nearby include the 1853 Faulks House - the oldest remaining residence in Elk Grove - and the 1912 San Joaquin Township Justice Court and Jail.
Parks and Recreation in Elk Grove
Elk Grove Rain Garden Plaza
This amazing local park provides a great example of Elk Grove residents' commitment to the environment. Elk Grove, Rain Garden Plaza, has been designed to provide education and build community awareness of the importance of conserving water resources, improving local water quality, and attracting wildlife.
Elk Grove Rain Garden Plaza features an open space with a rain garden, pervious paving, water harvesting features, and native, drought-resistant plants. The park was designed to be river-friendly, and the landscaping achieves this by allowing stormwater to be managed sustainably. This awesome park is beautiful and educational and acts as a 'living lab' for adults and kids.
Stone Lakes National Wildlife Refuge
Located a few minutes south of central Elk Grove, Stone Lakes National Wildlife Refuge encompasses 18,000 acres of protected land. It is one of only a few urban refugees in the entire nation.
An important destination for thousands of waterfowl and other birds, Stone Lakes, features grasslands, pools, waterways, and essential habitat for various plants and animals. The park has miles of trails, and guided hikes are available. Guided paddle boat trips are also offered here and provide an excellent way to experience this wonderful natural area.
Morse Community Park
This popular 30-acre park is the place to be on hot summer days when kids and parents from all over Elk Grove come to enjoy the refreshing sprayground. Morse Community Park also features trail access, 2 playgrounds, shaded picnic areas with BBQ pits and bocce pits.
Morse Community Park is one of several in Elk Grove to feature a dog park, providing dog owners the opportunity to chat and relax while the pups tire themselves out in safety.
Elk Grove Regional Park
At more than 122 acres, this huge park is easily the most popular green space in Elk Grove and offers something for everyone.
Elk Grove Regional Park features 1.4 miles of multi-use trails, relaxing picnic areas, horseshoe pits, a volleyball pit, and an awesome playground. There's also a bike path and a popular dog park here, as well as a pretty lake for fishing. In the middle of the lake, Strauss Island often plays host to concerts and events, and the Strauss Festival in July is always well-attended.
Cosumnes River Preserve
The scenic Cosumnes River flows gently past Elk Grove, and the Cosumnes River Preserve is located a few miles south of the city. The visitor center features interpretive exhibits that provide information about the diverse flora and fauna of the surrounding area, and there are walking trails throughout the preserve.
A boat launch provides the opportunity to paddle through wetlands, riparian forest, and oak woodland, and wildlife-viewing opportunities abound. This preserve is a beloved spot among Elk Grove residents and is well worth a visit.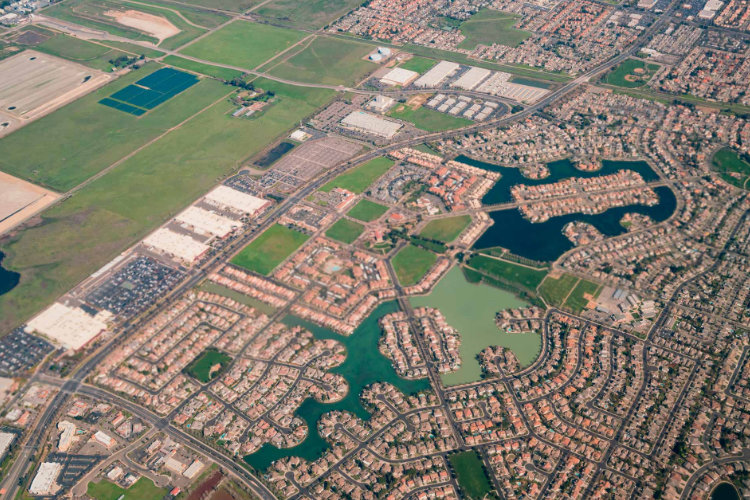 Arieal view of Elk Grove, CA
Real Estate in Elk Grove
Elk Grove offers a wide variety of real estate options, ranging from small, entry-level homes to luxury single-family homes on acreage.
Central areas of Elk Grove, including those surrounding downtown, are where you'll find both historic properties, many dating back to the early 1900s, and newer single-family homes in a variety of sizes. These neighborhoods attract those who want walkable streets and a friendly, community vibe.
On the East side of Elk Grove, properties tend to sit on larger lots, and neighborhoods with a distinctly rural feel can be found. These areas appeal to those who are looking for more seclusion and an escape from high-density city life.
Elsewhere in Elk Grove, neighborhoods like Laguna Village and Franklin Meadows offer newer homes within proximity of freeway access, shopping, restaurants, and business developments.