How Many REALTORS® Are There?
Posted by Sacramento Real Estate Voice on Tuesday, May 5, 2020 at 8:04 PM
By Sacramento Real Estate Voice / May 5, 2020
Comment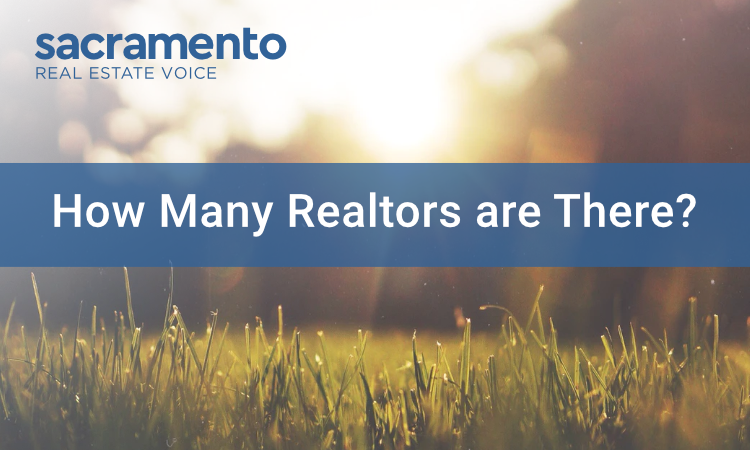 There are over 2 million real estate agents in the United States. Of those, 1.37M are Realtors®, according to the National Association of Realtors (NAR). Why the disparity between those numbers? While all Realtors are real estate agents, the opposite is not always true. Here's why:
Agents vs. Realtors
A real estate agent holds a professional license to conduct real estate transactions, the most common being buying, selling, or renting real property. Licensees take a mandated number of hours of training and then must pass a state-issued exam.
A small number of exceptions exist, as would be the case of a real estate attorney who conducts an occasional transaction such as selling off assets from a family trust.
REALTORS® are real estate agents who are also dues-paying members of the National Association of Realtors. As such, they must hold themselves to the standards of NAR's code of ethics. What's more, if Realtors join and pay dues to a local association (also called a "board"), they get access to their local Multiple Listing Service (MLS), which is a database of local properties for sale or lease. There are approximately 1,148 local boards.
In addition to maintaining their MLS, local associations enforce national, regional, and local rules of conduct. They do so through several committees. Committees help members with day-to-day issues like arbitrating disputes between Realtors to classes and events that widens their understating of real estate best practices – from legal matters to operational aspects of running their businesses. Realtor associations have a long history and tradition of getting involved with and contributing to local charitable foundations as well.
Are There Too Many Realtors?
Just how competitive is the market for Realtors? First, let's find out by comparing two medium-sized markets in the United States.
Clark County, Washington
Population: 488,241
Agents: 1,900 according to the Clark County Association of Realtors® (CCAR)
Sacramento County, California
Population: 508,529
Agents: 6,000 according to the Sacramento Association of Realtors® (SAR)
In Clark County, 0.39% of its residents are Realtors compared to 1.18% in Sacramento. That's right; there are more than twice as many licensed Realtors per capita in Sacramento than in the Vancouver real estate market.
This higher-Realtors-per-capita figure is remarkably consistent in California. For example, let's compare Los Angeles to Chicago.
Los Angeles, California
Population: 3,900,000
Agents: 39,307 (multiple boards)
Chicago, Illinois
Population: 3,900,000
Agents: 39,307 according to the Chicago Association of Realtors® (CAR)
In Los Angeles, 1.01% of its residents are Realtors. Yep, there's one agent for every 100 people. In Chicago, the percentage is much lower and more consistent with other large cities in the United States at 0.57%.
Remember that the figures above are for Realtors. Given that we know the total number of real estate agents is higher than Realtors, we could expect the per-capita percentages to come in even higher. Suffice it to say, the competition among agents is pretty fierce. Realtors are hardly a scarce commodity.
Market Fluctuations
The number of Realtors in the United States ebbs and flows with economic cycles. During good times, when Americans are feeling flush and in a home-buying mood, the number of agents (not so) magically increases to meet the demand. During periods when the economy cools, two things happen. First, existing Realtors tend to leave the business and let their licenses expire. In most states, licenses are good for four years. As time passes during the slow times, there's an eventual "clearing of the deadwood from the forest." Second, fewer would-be agents are willing to take the mandatory preparatory coursework, leading to fewer of them taking the state licensing exam. Here's a look at the growth and decline of the number of Realtors in the United States overlaid with period recessions since 1980.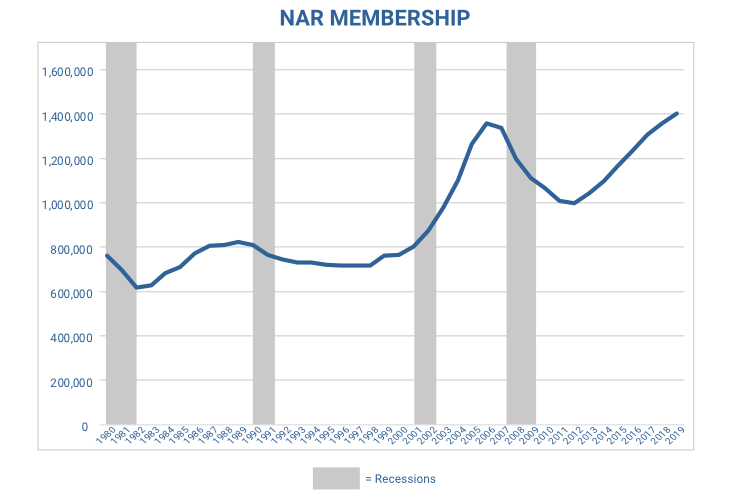 Summary
Real estate agents are licensed by the state in which they conduct business. Realtors are real estate agents who are also members of the National Association of Realtors (and in nearly all cases, a member of a local Realtor board). NAR members:
Are held to higher standards of ethics and conduct
Have access to compiled data about the markets they serve
Receive ongoing training and support for their business
The number of Realtors per-capita is nearly twice as high in California as other states. The total number of agents rises and falls based on the broader economy and consumer sentiment. No matter how the economy is faring, competition is always fierce.