Living in Rocklin, CA: 2021 Community Guide
Posted by Sacramento Real Estate Voice on Saturday, January 23, 2021 at 3:10 AM
By Sacramento Real Estate Voice / January 23, 2021
Comment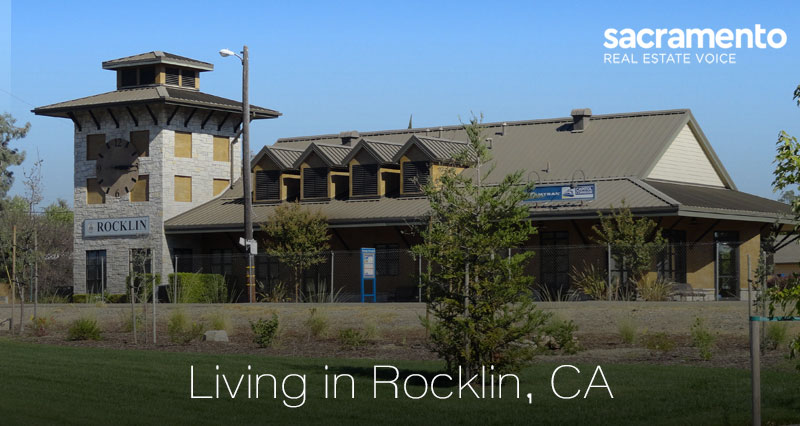 Located in Placer County, approximately 22 miles northeast of Sacramento, Rocklin is nestled in the foothills of The Sierra Nevada Mountains and is part of the Placer Valley Community, which also includes the adjacent cities of Roseville, Lincoln, and Auburn.
Rocklin has a population of around 65,000, and although it's considered a suburb of Sacramento, it maintains a friendly, relaxed atmosphere, and feels a million miles away from the hustle and bustle of the big city.
Rocklin is home to top-rated schools, a highly educated workforce, several multinational corporations, and is consistently ranked among the best places to live in the State of California.
The revitalized historic downtown area has made Rocklin even more desirable to those who want to live within easy reach of top-notch dining and unique shopping, and the city's proximity to outstanding recreational opportunities in the surrounding mountains and forests make it an attractive home base for outdoor lovers.
Let's take an in-depth look at what Rocklin has to offer, and why it's such a special place to live.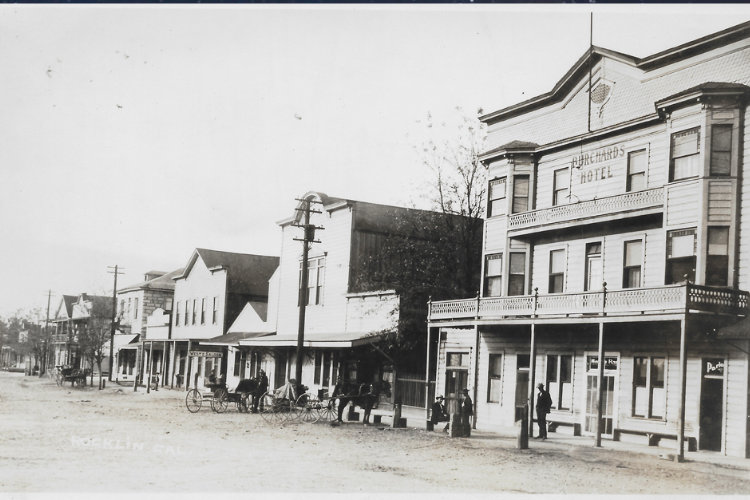 Rocklin in 1912
History of Rocklin
Rocklin's history is closely entwined with the mining industry that thrived here. Although Rocklin was first recognized as a place along the Transcontinental Railroad in 1864, it wasn't until 1893 that Rocklin was incorporated, during the heyday of granite mining and railroad activity.
There were 22 operational quarries in Rocklin by 1910, and 2 years later, Rocklin sent out 2,000 train carloads of granite to become part of the San Francisco building boom.
As the mining industry declined, the local government began to realize the potential of its lower cost of living and cheaper commercial land than that of nearby cities and began to lure high-tech firms and other manufacturing to the region. There also began a period of residential development that included Stanford Ranch and Whitney Ranch.
Today, Rocklin is a progressive community that celebrates its past and is eager to continue its growth and development.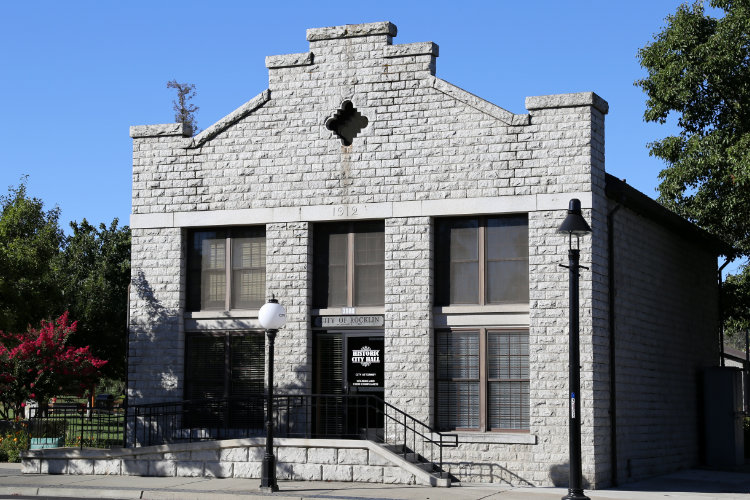 Downtown Rocklin's City Hall
Lifestyle and Culture in Rocklin
Rocklin's convenient location at the intersection of I-80 and State Highway 65, means that travel by car to Sacramento and the surrounding areas is a breeze. Many residents work in Sacramento, and commute times average around 25 minutes. Rocklin is also well-served by public transport. Local buses to Sacramento run on a regular basis and connect with Regional Transit, the rail system serving the Sacramento Metro Area.
Rocklin's climate does little to dispel the myth of California having constant warm sunshine. The weather here really is perfect a lot of the time, and there's an average of 255 days of sunshine each year. Summers are warm, but seldom blisteringly hot, and winters are cooler, with moderate rain, although it's often warm enough to wear short sleeves in January!
With all that sunshine, Rocklin residents love to spend as much time outdoors as possible, and there's just so much to do both within the city limits and in the surrounding areas. Quarry Park, in the heart of downtown, inspires a lot of local pride and has become a gathering place for residents of all ages. Just a short drive away, there are endless opportunities for hiking, fishing, camping, and swimming in the El Dorado National Forest and The Sierra Nevada Mountains.
Rocklin's diverse population is reflected in the range of dining options on offer. There are restaurants of all kinds, serving everything from upscale Italian cuisine to Mexican comfort food. Locals love to support the California wine industry and enjoy nothing more than sitting outside Cante Ao Vinho on a weekend evening, sampling food and wine from this local institution that's been operating for over 40 years.
Downtown Rocklin offers a range of interesting shopping, and local independent stores and art galleries abound. For more mainstream shopping, Rocklin Commons and Rocklin Crossing malls are centrally located. A more upscale shopping experience awaits at Fountains shopping center in nearby Roseville.
Rocklin is a great place for the arts, and popular activities include visiting The Rocklin Community Theatre for a great show, or The Placer Theatre Ballet which organizes youth dance recitals. History is everywhere in Rocklin, and The Rocklin History museum keeps the past alive. Rocklin residents take full advantage of all the cultural activities on offer in their city, and proudly support these community institutions.
Events and festivals take place throughout the year in Rocklin and the surrounding communities, and it feels like there's always something happening. The Placer valley is home to several Farmers' Markets, including a seasonal Saturday Market in Rocklin. Popular annual events include the Concerts at Quarry Park series, Run Rocklin half-marathon, and the awesome Placer Artists' Studio Tour.
Rocklin is home to many great schools, and The Rocklin Unified School District, which promotes a cohesive learning environment for all students, is considered to be among the best in the Sacramento region. There are also 2 colleges in Rocklin, Sierra Community College, which features an excellent Agriculture and Forestry program, and William Jessup University.
Things to Do in Rocklin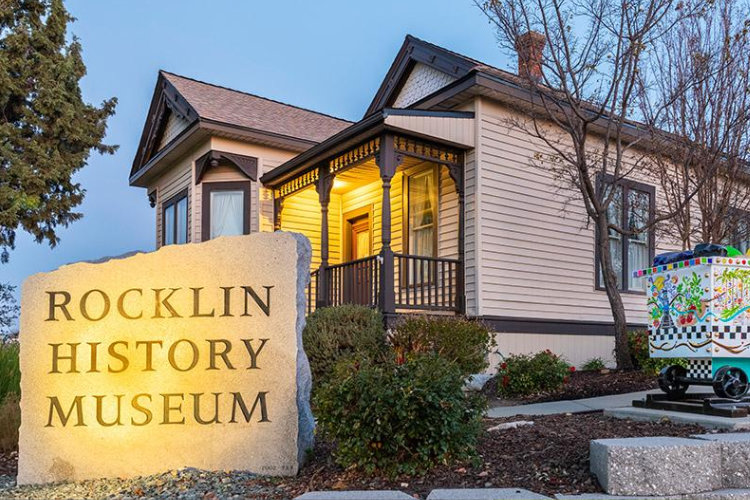 Rocklin History Museum
This wonderful little museum is located in the historic Fletcher House, on Rocklin Road. Members of the Rocklin Historical Society staff the museum, and it isn't unusual to be given a tour by a descendent of one of the original settlers in the area.
The museum houses a fascinating collection of artifacts documenting Rocklin's early days, and the knowledgeable staff provides insights into what life was like for early residents. Admission to the museum is free, and children are welcomed.
Rocklin Community Theatre
The Rocklin Community Theatre is hugely popular with locals, and for good reason. The organization partners with the City of Rocklin, which, since 1994, has allowed it to rehearse and perform at the historic Finnish Temperance Hall.
The Community Theatre puts on at least 6 shows a year, featuring children, teens, and adults. Shows range from musical theatre standards to modern classics like "Jekyll and Hyde", and are always well-attended. The Theatre also offers loads of classes to kids and adults, focusing on acting, singing, and dancing.
Sierra College Natural History Museum
For over 50 years, this amazing Natural History Museum has been providing inspirational scientific education to both students and members of the local community. It's a real gem and has become a popular regional attraction.
Located in Sewell Hall on the Sierra College campus, The Natural History Museum features a planetarium, an arboretum, fossils, minerals, and a huge whale skeleton, suspended from the ceiling, that always steals the show!
The museum also hosts a monthly series of scientific lectures, for those who want to go deeper, and learn more about the natural world.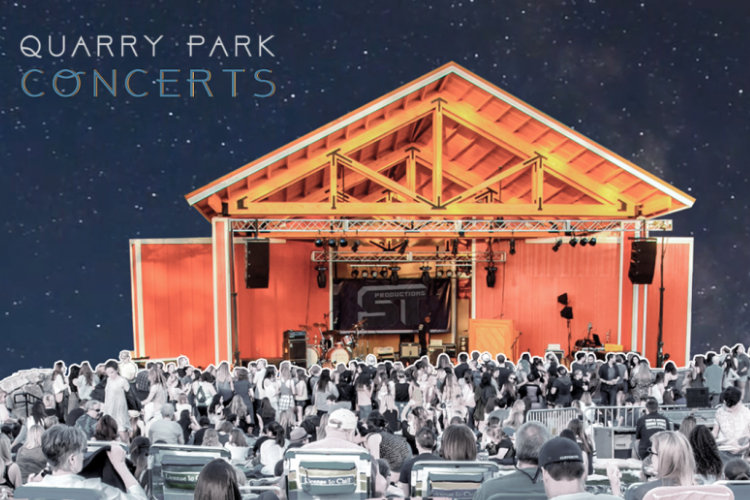 Concerts at the Quarry
During the spring, this popular concert series features performances by local acts, as well as by big-name bands. The concerts take place in the 1,000 seat amphitheater that's part of the recently-renovated Quarry Park complex.
These events are always family-friendly and super-fun. There are food trucks on-site, as well as a beer tent. The good times roll at these concerts which are a great way to enjoy music, good weather, and a neighborly atmosphere.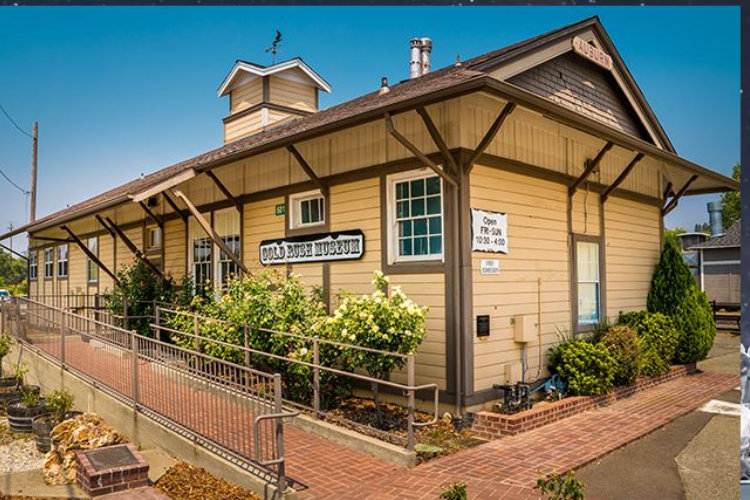 Auburn Gold Rush Museum
This not-to-be-missed museum, located in nearby Auburn provides a fascinating and fun way to learn about 19th-century settlers and the history of the California Gold Rush in the Placer Valley.
Located in the old Auburn Railroad Depot, the Gold Rush Museum features a mining tunnel, a wheelchair-accessible indoor gold panning stream, and plenty of hands-on exhibits. Best of all, there's a hilarious Gold Rush "Twitter Wall" that reimagines life in the 19th century with the addition of social media. This provides a truly innovative way to teach history to modern kids!
Parks and Recreation near Rocklin

Quarry Park
Quarry Park lies at the heart of Rocklin's revitalization project and offers a beautiful, picturesque gathering space for community events and concerts. Locals are proud of this park, which features open spaces for summer picnics, popular walking trails, and plenty of opportunities to view wildlife.
Quarry Park is also home to Quarry Park Adventures, an amazing adventure park built within the former disused quarry. The adventure park offers a unique, fun experience, and visitors from all over the country come here for the zip lines, rock climbing, rappelling, and paddle boats.
Sugar Bowl Ski Resort
Sitting atop Donner Peak, high in the Sierras, Sugar Bowl Ski Resort is a little over an hour's drive east from Rocklin and is a favorite wintertime destination for locals who like to ski and snowboard.
Sugar Bowl has been in operation since 1939 and features California's first chairlift. Although the resort has seen significant development, it still retains its historic charm and exudes a Bavarian vibe.
Sugar Bowl encompasses 1,500 acres of runs across 4 peaks, ranging from beginner to expert, and is a true California classic that's not to be missed if you love snow sports.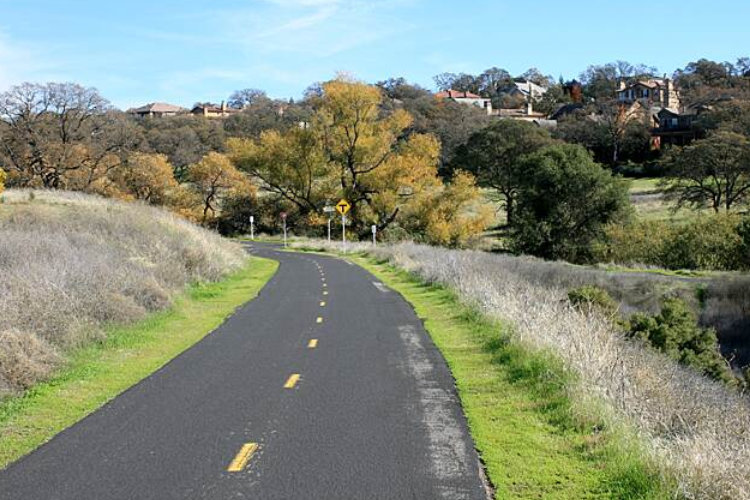 Miners Ravine Trail
This 8.4-mile trail is really popular with local runners, bikers, and dog walkers. The well-maintained trail follows a pretty creek and passes through wooded greenspace and quiet neighborhoods between Sierra College and Darling Way.
Miners Ravine Trail provides a perfect opportunity to get out and enjoy a sunny afternoon while seeing a different side of the city.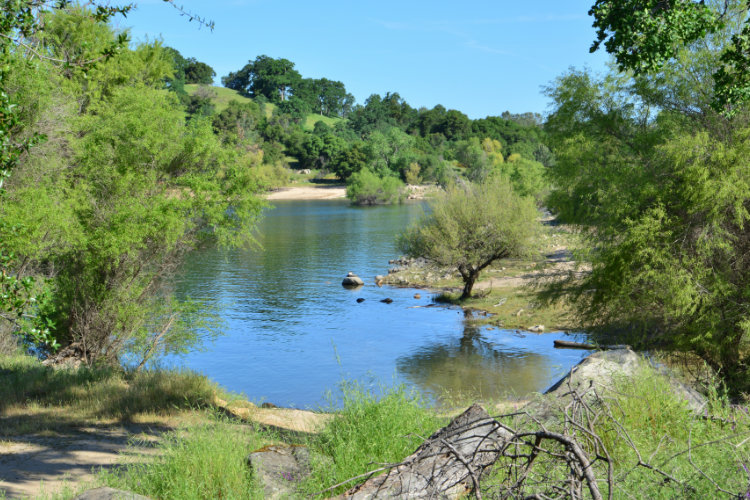 Folsom Lake State Recreation Area
Just 20 minutes from downtown Rocklin, Folsom Lake is the place to be when the weather gets hot. This gorgeous recreation area has several campsites, and there are plenty of places to jump in the water on a summer day.
Locals come here to fish, and you'll see plenty of people in boats, enjoying a lazy afternoon. More active folks take advantage of the 32-mile bike path that connects Folsom Lake to other parks and downtown Sacramento.
History buffs will love seeing Folsom Powerhouse here, which produced 11,000 volts of electricity for Sacramento, between 1885 and 1952.
Johnson-Springview Park
Located in central Rocklin, Johnson-Springview Park encompasses 90 acres of open space, with beautiful heritage oaks surrounding Antelope Creek.
This popular local park features lighted sports facilities, including tennis courts and soccer fields. There's also a skate park and a roller hockey rink, as well as picnic tables and even free Wi-Fi.
Rocklin is a city of dog lovers, and Johnson-Springview Park also contains Rruff Dog Park, which has 3 separate areas for dogs of different sizes and temperaments. The dog park also hosts training classes and is a great community space for dogs and their owners to socialize in.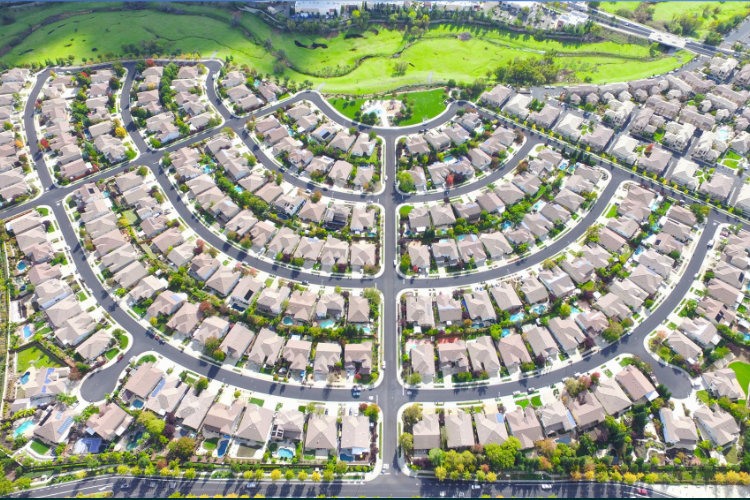 A luxury subdivision in Rocklin
Real Estate in Rocklin
Real estate in Rocklin consists mainly of single-family dwellings, ranging from townhouses and Craftsman-style homes to neat Ranch-style homes and sprawling Mediterranean-style properties.
Downtown Rocklin is one of the most popular neighborhoods to live in, and features modest homes on large lots. Residents love how walkable this neighborhood is, and it's also perfect for biking, so a car isn't necessary for running daily errands.
Whitney Ranch is another popular neighborhood that's close to shops, cafes, and restaurants. This upscale housing community has parks, trails, and a pool. There's also a huge ranch house that hosts classes and community events. Homes in Whitney Ranch are mainly larger, energy-efficient homes and condos.
The Stanford Ranch neighborhood features large, single-family homes, with a wide variety of styles and time periods on offer.
Whitney Oaks is another neighborhood that encompasses a wide variety of styles and periods. This development was started in 1998, and houses vary in size from 1,200 square feet to over 5,000 square feet. Whitney Oaks also features tennis courts and a clubhouse.
Rocklin Information
Population: 64,835
Median household income: $117,257
Size: 19.83 sq mi
Demographics: 79% White, 10% Asian, 6% Two or more races, 2.75% Other, 1.85% Black, 0.5% Native American