Living in Midtown, Sacramento, CA: 2021 Neighborhood Guide
Posted by Sacramento Real Estate Voice on Monday, February 8, 2021 at 12:56 PM
By Sacramento Real Estate Voice / February 8, 2021
Comment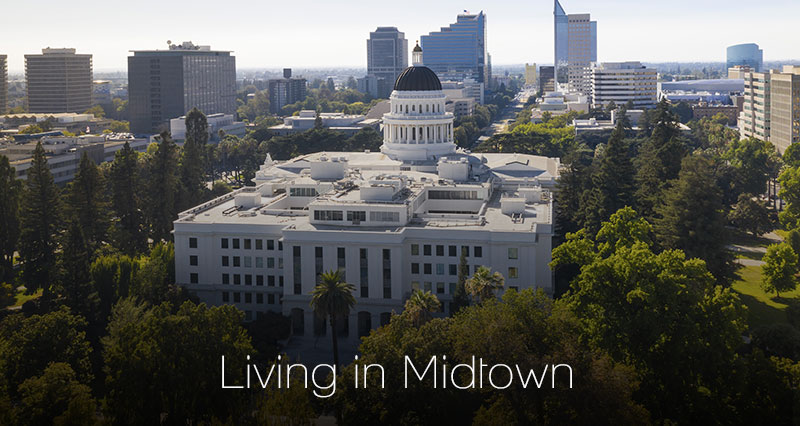 Midtown is a historical district and neighborhood, located just east of downtown Sacramento. Midtown is bordered by R Street on the south, J Street on the north, 16th Street on the west, and 30th street on the east, and is part of the original layout of streets in central Sacramento.
If you spend time in Sacramento, you'll soon be joining the locals in referring to this area of lettered and numbered streets as "the grid".
Midtown is one of the most desirable places to live in Sacramento, thanks to its mix of tree-lined residential streets, popular restaurants and boutiques, and a wide variety of housing options. No longer considered an extension of downtown, Midtown has forged its own identity and has become the center of the art, music, and dining scene in Sacramento.
Aside from shopping and dining, Midtown also benefits from some great community events, like the Saturday Farmers' Market, and the Second Saturday Art Walk. Events like these bring the community together and enhance Midtown's intimate neighborhood feel.
Midtown is a very pedestrian-friendly neighborhood, and you'll see locals cruising the streets on their bikes at all times of the day and night. In fact, Midtown is one of the very few neighborhoods in Sacramento where it's possible to thrive without owning a car.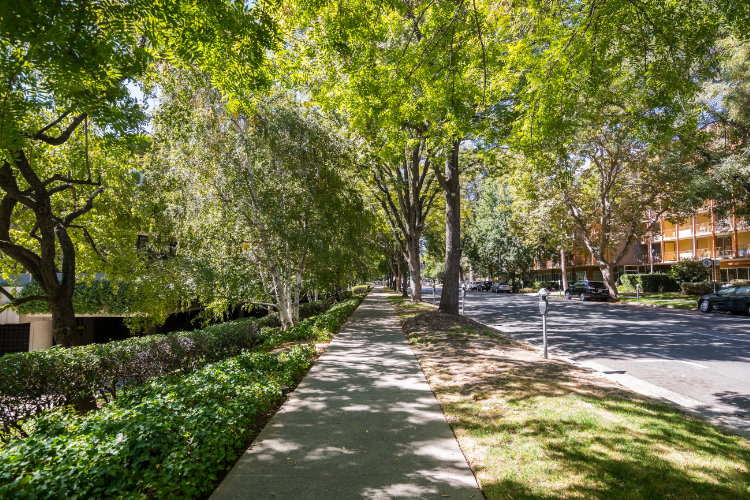 Tree-lined sidewalks near Midtown
Lifestyle and Culture in Midtown
Long gone are the days when Sacramento was seen as a cultural backwater, forever in the shadow of San Francisco and Los Angeles. Sacramento has become an exciting city with a booming food and arts scene, and Midtown is a shining example of its vibrant, beating heart.
Midtown's residential streets are a mix of postwar apartment buildings, newer developments, and stately old Victorians. Locals enjoy strolling these elegant streets, shaded by the canopy of beautiful old trees that keeps temperatures cooler in the hot summer months.
There are several distinct neighborhoods within Midtown, including Lavender Heights, which has been central to Sacramento's LGBTQ community for generations, and The Handle, a busy block that gets its name from how it appears on a map, relative to Capitol Park. All these neighborhoods are steeped in history, and it seems like there's always something happening in Midtown, be it an art opening, a food festival, or an open-air concert.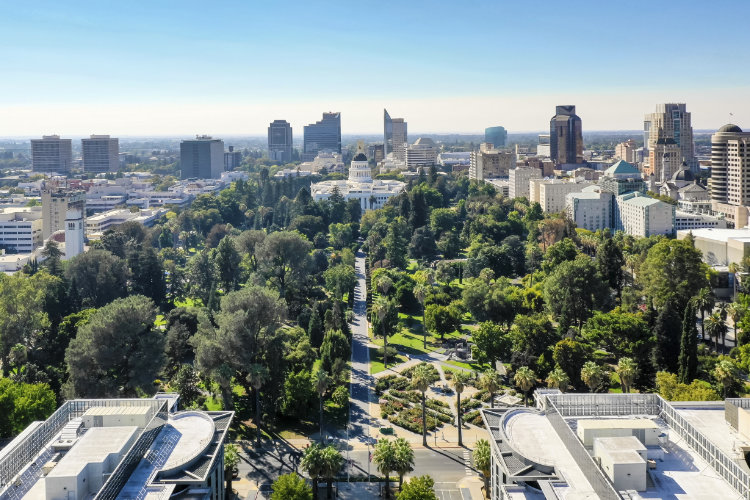 California State Capitol in the backdrop
Midtown's mix of residential and commercial streets means that residents never have to walk far to find interesting shopping and dining. There are dozens of great dining options, ranging from casual breweries to upscale bistros, and almost all restaurants have outdoor seating, making this a lively zone on warm summer evenings.
Shopping in Midtown is centered around small, independent boutiques. This is the place to come for Mid-Century Danish furniture and interesting, unique artwork. The Saturday Farmers' Market is another example of local shopping at its finest.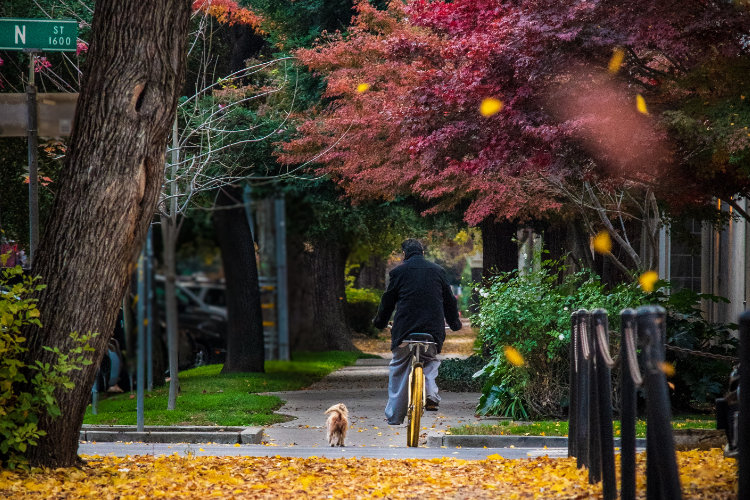 Person cycling down the street in Midtown
Midtown is well-served by public transport, with light rail lines running down R street, and bus lines that connect the neighborhood to the rest of the city. Sacramento is well known for being a pedestrian and bike-friendly city, and Midtown is no exception. Continuously marked bike-lanes run throughout the neighborhood and connect to the American River Parkway.
Although many Midtown residents eschew cars in favor of walking and taking public transport, parking is available both on the street and in private garages.
Sacramento enjoys a Mediterranean climate, with damp, mild winters and warm, dry summers. The best thing about the weather here is that it's predictable: you'll seldom have to worry about a freak storm ruining your summer picnic plans! Sacramento has long been known as the "City of Trees", and Fall is a great time of year to watch the leaves change color in Midtown. Although the winters are cooler, you'll often see locals walking in short sleeves, even in January.
Things to Do in Midtown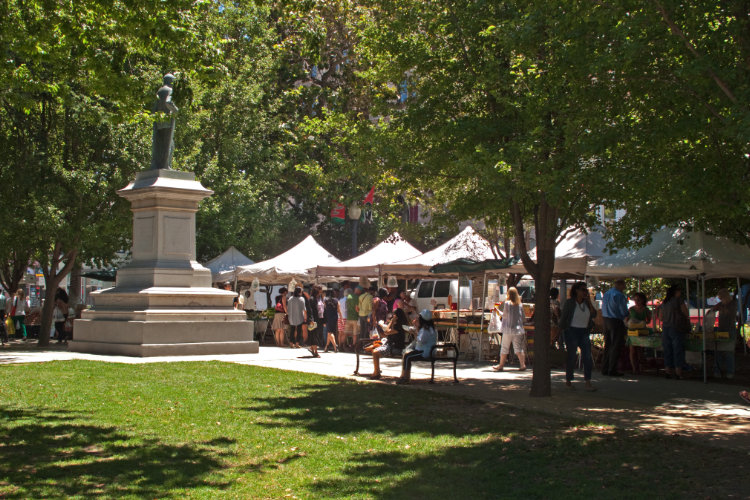 Farmer's Market in Midtown. Credit: Downtowngal
Saturday Farmers' Market
The Saturday Farmers' Market is held year-round on 20th Street, between J and K Streets, in the heart of Midtown. Locals take great pride in this lively, fun market that showcases regionally produced food and artisanal products.
There's so much on offer at the market, including live music, a kid's play area, and food demonstrations. This is the place to come for locally grown vegetables, meat, prepared foods, and crafts.
Sutter's Fort State Historic Park
A visit to Sutter's Fort provides a fascinating glimpse into Sacramento's early history and captures the spirit of the early pioneers who settled here at the dawn of the Gold Rush.
The Fort is the oldest non-indigenous building in Sacramento and was built in 1840 by John Sutter. The knowledgeable and engaging staff are dressed in period costumes and walking through the different rooms that house a bakery, blacksmith shop, textile shop, and more is a great way to spend an afternoon.
State Indian Museum
Located in Midtown Park, adjacent to Sutter's Fort, the State Indian Museum offers an excellent way to learn about California's original inhabitants, and how they lived and cared for the land before Spanish explorers and settlers arrived.
The museum houses an amazing collection of 19th-century Indian cultural artifacts, and also provides modern context, shedding light on how Native Californians have adapted to life in the 21st century.
Second Saturday Art Walk
A highlight of the local calendar, the Art Walk takes place on the second Saturday of every month. Galleries and local businesses host an open house evening from 5.30 pm to 9 pm or later, and the event encompasses everything from art exhibits to food and wine tastings, live music, street fairs, and other special events.
Local Roots Food Tour
These awesome tours aren't just about eating. You'll also learn about the history of local murals and get to experience the local art scene, as you hop from restaurant to restaurant.
The tours are led by local experts in the culinary and art scenes, and in between checking out all of the art on display, participants get to pop into venues where farm to fork menus are the order of the day. This is a really great way to experience all that the Midtown food and art scene have to offer.
Parks and Recreation in Midtown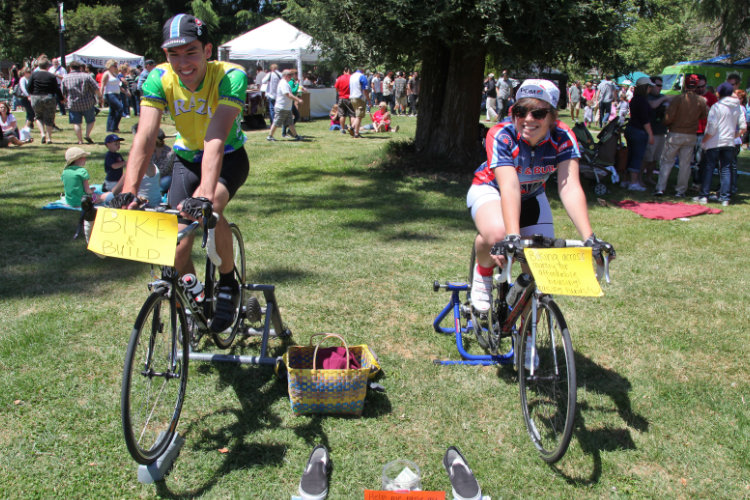 Bike & Build activists at Fremont Park Credit: Robert Couse-Baker
Fremont Park
Located between Q and P Streets at 15th Street, Fremont Park is a neighborhood gem. There are picnic tables, an awesome adventure playground for the kiddos, and a community garden, as well as a seasonal Farmers' Market. The park was fully renovated in the early 2000s, and is now a popular hangout for locals, especially in the summer months.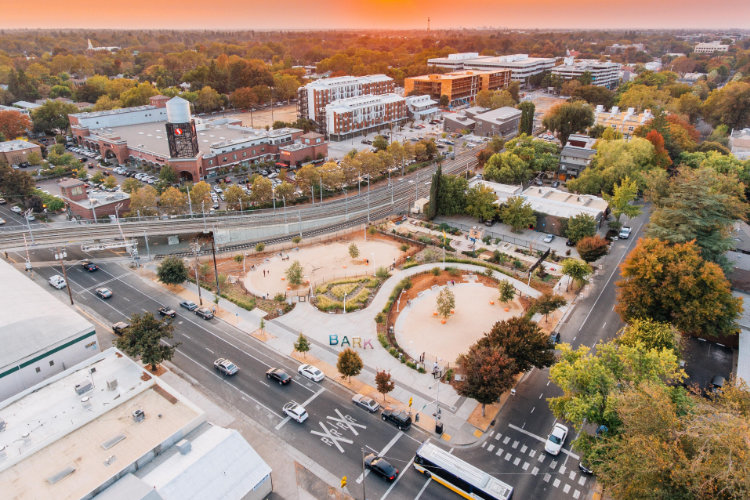 Truitt Bark Park. Source: beerme916
Truitt Bark Park
Midtown is a dog-friendly kind of place, and this park has separate fenced-in play areas for small and large dogs. If your pup needs space to run, this is the place to come, plus, it's a great place to meet your neighbors. Opened in July 2017, this popular park is enhanced by lighting, trees, and public art. The park also features a community garden, named for longtime Midtown activist, Brooks Truitt.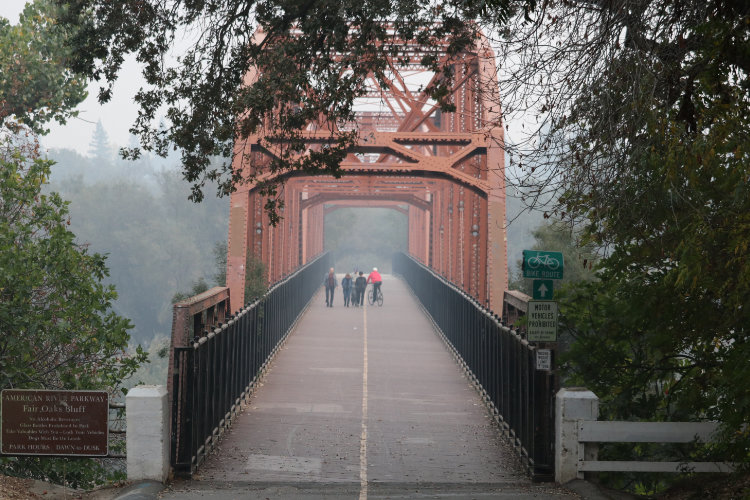 American River Parkway
American River Parkway
The marked bike paths in Midtown connect to this 32-mile parkway that runs along the American River in Sacramento County. This super-popular parkway contains many smaller parks and boat launches, including Discovery Park, which acts as the trailhead for a 32-mile trail, and Ancil Hoffman Park, which features ancient oak trees and an abundance of wildlife.
Marshall Gold Discovery State Historical Park
For those willing to venture a little further afield, the Marshall Gold Discovery Park is well worth the 45-mile journey. The original residents called this area "Beautiful Valley", and for good reason; this is a gorgeous, hilly country. There's a 3-mile trail in the park that takes hikers to several viewpoints that offer stunning panoramas of the surrounding area, and it's also possible to take a gold panning lesson or a historical tour.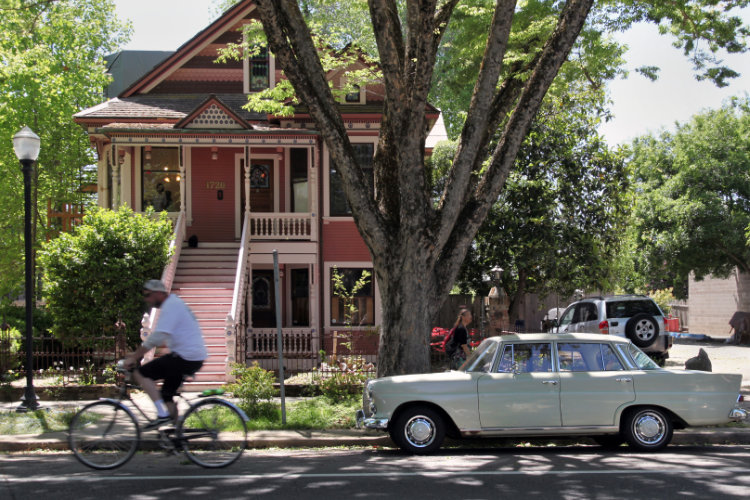 Historical home in Midtown. Credit: Robert Couse-Baker
Real Estate in Midtown
Midtown offers a diverse array of housing options, in a dense, urban setting. This is a multi-use neighborhood, and it isn't uncommon for bars, restaurants, shops, and offices to be mixed in with houses and apartments.
Lavender Heights and the Sutter District (named for its proximity to Sutter's Fort) are where you'll find tree-lined streets, lined with old Victorian houses dating back to the 1800s. These old homes have often been well maintained, and exude warmth and character. These types of homes are often on larger lots than others in the area and have plenty of space for a garden.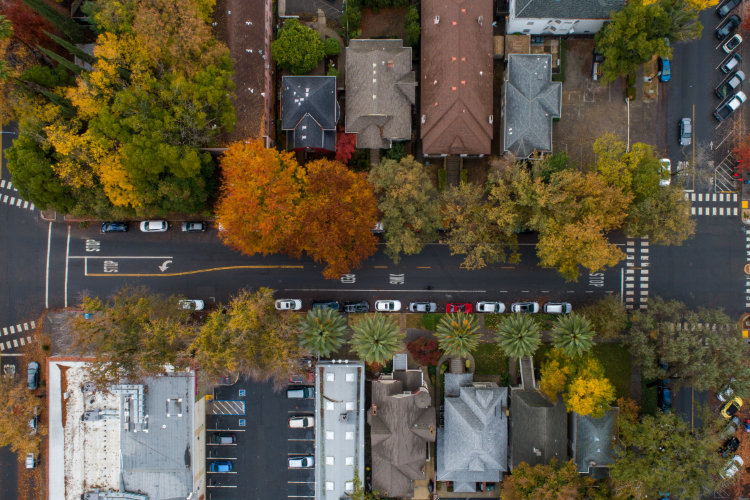 Aerial view of homes in Midtown, Sacramento
Elsewhere, Midtown has plenty of more modern developments, and lofts, townhouses, and condos are readily available for those who want to live in a vibrant, urban setting with bars, shops, and restaurants all within easy walking distance.
Other housing options in Midtown include charming early 20th century bungalows, and postwar apartment buildings with cool Art Deco features.