Living in Tahoe Park, Sacramento, CA: 2021 Community Guide
Posted by Sacramento Real Estate Voice on Tuesday, February 9, 2021 at 10:09 AM
By Sacramento Real Estate Voice / February 9, 2021
Comment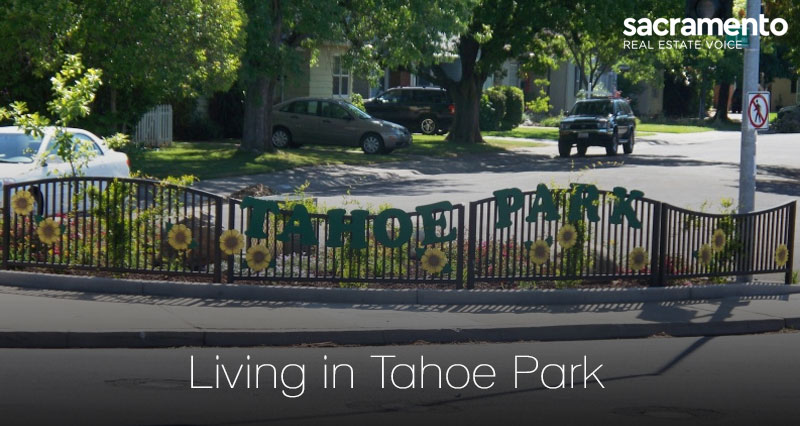 No matter where you live, even if it's a big city like Sacramento, you can always be part of a community. Nowhere turns this attitude into reality better than Tahoe Park. A history of community activism and local support for businesses and residents makes for a tight-knit neighborhood that's constantly developing and moving towards a brighter future.
A large suburban area just southeast of downtown, Tahoe Park is primarily residential and popular with people of all ages. Many parks, recreational facilities, businesses, and schools serve this demographic.
The History of Tahoe Park
The City of Sacramento expanded to annex the area now known as Tahoe Park in 1911. It was a rural area southeast of the California State Fairgrounds, but residents slowly began populating the area.
The area grew rapidly after World War II. Due to several nearby military bases, many service people chose to live in Sacramento and purchase single-family houses using the GI Bill. To accommodate the new residents, the city built many amenities like schools and parks, thereby attracting even more families.
Another boost came in 1991 when residents founded the Tahoe Park Neighborhood Association, also known as the TPNA. This non-profit organization is devoted to improving Tahoe Park's community by addressing collective concerns like traffic and crime. It's been highly successful, resulting in the neighborhood becoming a top pick for first-time home buyers.
The Tahoe Park Lifestyle
The mood in Tahoe Park is one of optimism and growth. Much of the population consists of young professionals just starting their careers. Many of them have just started families as well.
The businesses and establishments in the neighborhood cater to this demographic. As a result, you'll see many trendy coffee shops and bars along with parks equipped for young children. There are plenty of kids to fill the parks and schools, and you'll hear them laughing and playing with friends on the residential streets. Otherwise, the neighborhood is quiet and peaceful.
Despite being within the Sacramento city limits, Tahoe Park is distinctively suburban. Most of the land is residential, and there are few highrises. This means a lot of greenery and shade, which allows for recreation and outdoor exercise. It's common to see joggers on the sidewalks or organized ball games in the parks.
Thanks to the TPNA, there are regular community events, too. This is where young families get to know each other and build long-term relationships. You'll find that these relationships form such pride in the community and encourage people to continue improving it.
Things to Do in Tahoe Park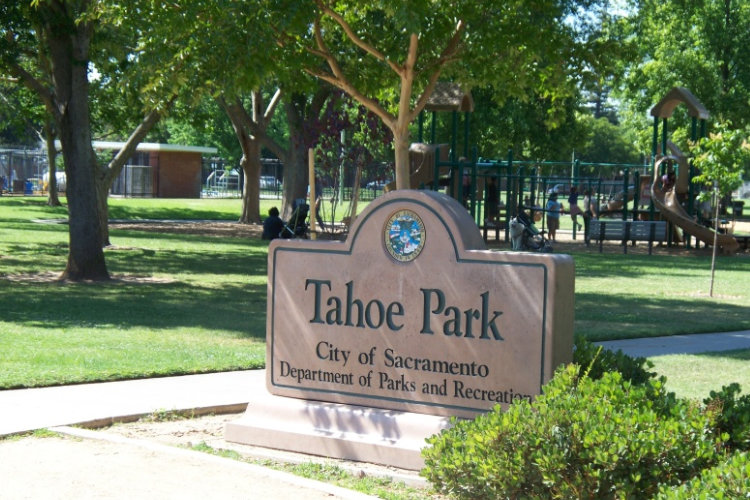 Source: Sirrebral
Go on a Picnic
The whole neighborhood is named after the giant park in its center, after all. Not that it's the only one. The many green spaces and mild northern California climate mean a lot of picnic opportunities. Most of the neighborhood's parks are all well equipped with thick grass if you want to set out a blanket in addition to tables, barbecues, and pavilions. Of course, the kids may get restless, but there are many jungle gyms and swing sets. The whole family can have an enjoyable day outdoors.
See the Christmas Lights
Tahoe Park's abundant number of single-family homes makes it one of Sacramento's best neighborhoods to go to see the Christmas lights. Neighbors often have friendly competitions or work together to build intricate displays around the holidays. Then, families pile into their cars and drive around Tahoe Park to look at the various displays. Sometimes long lines even form, slowly roving through the various neighborhoods so you can see each house and its unique decorations.
Some of the areas especially well known for their Christmas-light displays include the "Fab 40s"—the area from 40th-49th Street just west of Tahoe Park—the zone around 53rd Street and Highway 50 north of Tahoe Park, and San Joaquin Street on the east side of the neighborhood. Make sure to bring hot chocolate.
Participate in a Community Event
Tahoe Park has regular community events, mostly thanks to the Tahoe Park Neighborhood Association. The TPNA itself organizes several events like yoga in the park, community picnics, and a diners club where local restaurants agree to donate a portion of their proceeds from a particular night to community services.
Perhaps more importantly, the TPNA provides a way to organize and promote your own events. You can even put them on the association's calendar. The creates a readily available community schedule, including important events like PTA and fundraising meetings. In Tahoe Park, you can have fun with your neighbors but also get active and take part in your community's development.
Get to Know Local Businesses
A common complaint about the suburbs is the lack of originality. For example, many people get tired of the numerous chain restaurants and businesses. In Tahoe Park, this isn't the case. There are many unique local businesses around the neighborhood owned and run by local people.
Tahoe Park has specifically made it a point to connect residents with local businesses. One of the main ways is through the Diners Club organized by the Tahoe Park Neighborhood Association. On specific dates, local restaurants agree to donate a portion of their proceeds to the community. This encourages members of the neighborhood to go out and interact with each other and the business owners. This supports business and provides revenue for the area to approve amenities, making it a better place for businesses and residents.
Attend a Lecture at UC Davis's MIND Institute
The University of California, Davis, Medical Center is located at the northwest corner of Tahoe Park near the old state fairgrounds. Part of this campus is the MIND Institute, a research center devoted to studying and developing therapies for autism, Down syndrome, and ADHD.
With the Institute in your backyard, you can readily help them on their mission. This could mean participating in a study or attending a seminar if you have a family member who needs these types of therapies. Even if not, you can participate by attending one of the MIND Institute's many lectures from distinguished researchers in the field. These help you better understand the needs of those in your community, and community integration and participation are essential in Tahoe Park.
Parks and Recreation in Tahoe Park
If the name didn't clue you in, Tahoe Park has a lot of recreational space. Most notably, Tahoe Park itself is right smack in the center of the neighborhood. It's over 17 acres and features six different picnic areas and plenty of grass. Each picnic area consists of several tables and one or two barbecues. One has a gazebo. These areas are complemented by play areas for both older children and toddlers.
There is a softball field with overhead lighting, a volleyball court, a basketball court, a soccer field, and horseshoe pits for organized recreation. These can be reserved with a simple application.
For even more fun, Tahoe Park features the community pool. Admission is through single-visit tickets or unlimited swim passes. The pool also provides swimming and water exercise classes through the YMCA of Superior California.
Finally, Tahoe Park has a community garden beloved by residents. Here, members of the Tahoe Park community can participate in sustainable growing projects through yearly registration. There are also many volunteer opportunities.
Other parks and recreational facilities in or near the Tahoe Park neighborhood include:
Greenfair Park, located within the old state fairgrounds
Mae Fong Park, which features picnic areas and a playground
Colonial Playground, a small recreational area with a basketball court, playground, and kids' pool
The Little League park on San Joaquin Street, a primary recreational area for organized children's baseball
Oak Park Community Center, located a bit to the west of Tahoe Park and available for rentals and reservations for large events of up to 250 people
Shopping and Dining in Tahoe Park
Tahoe Park residents support their local restaurants, and this culture has led to a number of long-established, highly rated eateries offering a wide variety of cuisine. For example, the locals love MoMo's Meat Markets. Anyone who moves into the neighborhood won't take long before someone recommends the family-owned butcher shop and barbecue. Of course, the locals have many other favorites, too, from breakfast joints to authentic sushi restaurants and cafe-bakeries.
Within Tahoe Park itself, shopping is mostly limited to strip malls, keeping with the suburban-style. Two bookends the neighborhood, Tallac Village Shopping Center to the south and Broadway Plaza to the north. Many residents take the short eight-minute drive to downtown Sacramento for more extensive shopping options where they can peruse the Downtown Commons, a large promenade with a department store, shops, restaurants, gyms, and a movie theater.
Tahoe Park Real Estate
The vast majority of Tahoe Park homes are single-family houses, ranging from 2-4 bedrooms on residential lots that provide for yards. Many of these make good starter homes for young families. As a result, it's become a popular neighborhood for young professionals buying their first home.